What started 5 years ago on my travels in India as an admiration for the beauty of semi-precious stones & Malas has grown into YamJewels.
YamJewels.com started as YogAndMore.com because of what I had in mind to do with my training in India with Yoga.
But when friends became interested in my bracelets and Malas, there was no name & I ended up with YogAndMore-YAM.
The logo is made by my son and me & YAM was born.
The fact that YAM is the chakra of the heart, is completing the circle & I am sure this is the right path for me. YAM finally became YamJewels and I hope I can continue to do this beautiful project because everything I make is made with a lot of love and comes from the heart.
So the journey goes from taking yoga classes & training courses to teach. From admiring semi-precious stones & jewelry to choosing and buying them myself in India & Nepal to creating, assembling, hand-knotting malas all by myself and having silver pendants & charms made by the local jewelers.
Meanwhile, my collection has grown into a little studio with more than 100 different kinds of semi-precious stones, 200+ pendants and 400+ charms that I love to work with.
They have become a real fascination and passion in my life and I am so happy to share my creations with you.
Everything has been chosen with the greatest care & with an eye to the best quality, both in stones and silver.
I work with 925 Sterling Silver, Triple AAA quality semi-precious stones, and recently also with Brass (copper, a metal that allows me to buy nice rings in a lower price category, but still good quality).
The small charms I buy are not always in silver, the metals are always tested for allergies and are definitely nickel free.
What I love most is creating Malas, necklaces & bracelets that are personalized.
More and more I get the question to be creative after hearing a personal story, an intention, a feeling, love for a color etc..
On the basis of this information I can put that feeling in a band or necklace, which has an added value for the future wearer.
Every piece I make, a bracelet, mala or necklace, everything I make with the greatest care, patience, love and with the best materials.
I also regularly get necklaces sent to me in semi-precious stones from customers who got them from their grandmother and who now get a new life by combining them with other stones and giving them a more modern look.
The perfectionism in me doesn't allow anything to leave my studio if it's not 100% in order.
I also work with an after sales service, so if you have a problem, you can always contact me and we will certainly find a solution.
What about my new challenge in 2021?
I decided to go back to school, to become a Goldsmith. 
This is something that was planted as a little seed in my head and I finally took the decision to go for it. 
I love to learn all about the handling of silver and gold, it's intriguing and fascinating to work with those metals.
You will see (little by little) on my site how I am getting into the process of making my very own handcrafted jewelry.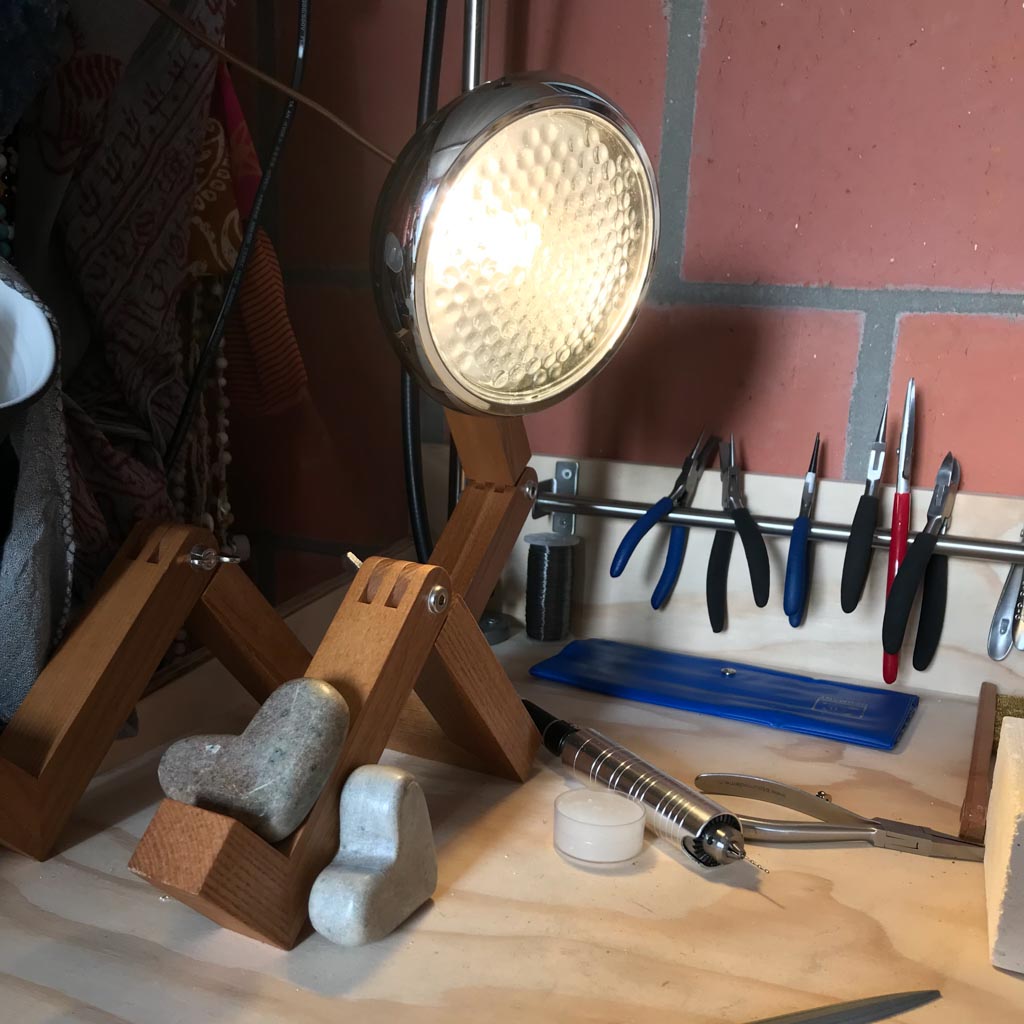 Until now I only did small local fairs, artisanal markets, the yoga festival, and last year also the Libelle Winterfair, where I was always received very enthusiastically and thanks to all these customers I have grown into what YamJewels is today.
The last few months in lockdown have prompted me to broaden my horizons on the internet and social media as all the happenings of 2020 & 2021 have gone into the water.
So, lockdown is a new start to a wider network and I hope you can feel and appreciate my love for what I do and make, even through the internet.
Namaste,